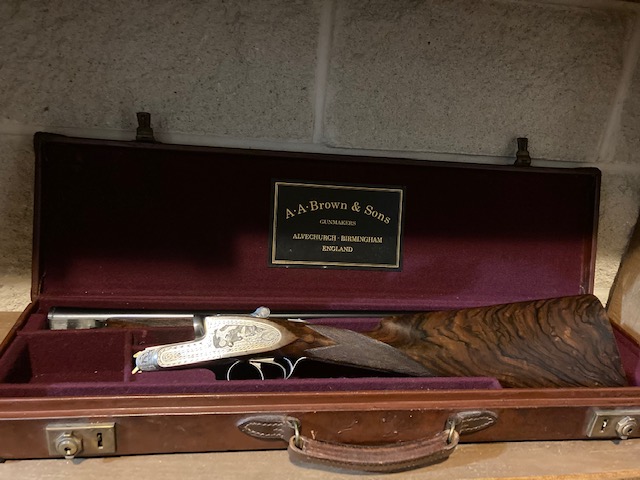 12
A. A. Brown & Sons 79770
A fine 20-bore "Supreme Deluxe" model self-opening sidelock ejector gun with 25" nitro proof chopper-lump barrels with 2 3/4" chambers about 1/4 and 1/2 choke borings. The frame, locks and top lever are engraved with Celtic strap work around highly detailed scenes of game birds in flight, the right lock with a fox and flighting duck, the left lock with grouse and bird of prey, the action base with a snipe and gun retains much of its original polished and colour hardened finish. It has gold lined cocking indicators and gold washed lockwork, rolled edge trigger guard, a 15" highly figured stock and is in a lightweight leather case.
Contact us for more information
Details
Maker: A. A. Brown
Stock Number: 79770
Gauge: 20
Weight: 5 lb 10 oz
Stock
Grip: Straight Hand
Length to centre: 15"
Barrels
Type: Steel
Length: 25"
Chambers: 2 3/4"
Choke: right: 1/4 left: 1/2