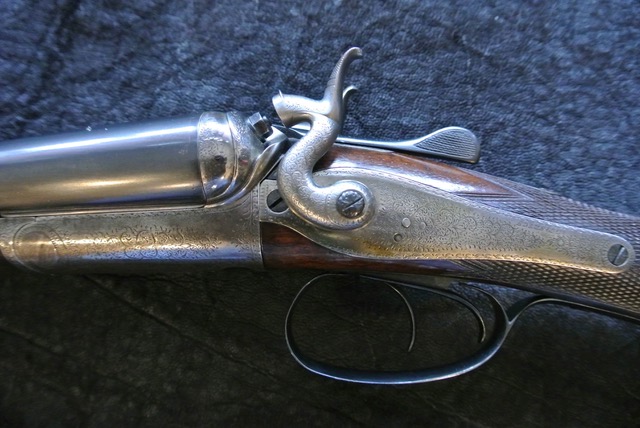 10
Adams & Co. 12156
This is a good quality back-action top-lever hammer gun with 25" barrels, choked I.C. and I.C., therefore ideal as a skeet gun or for walk-up game in cover. The round-bodied action is finely engraved with scrolls and borders, which extend onto the lock-plates, hammers and furniture. The rebounding back-locks of Stanton type are brushed bright and well-fitted into the staight-hand walnut stock. The 14 1/4" stock is checkered at the hand and cut with lines at the butt-sole, which is fitted with steel heel and toe plates. The matching forend is checkered and fitted with an Anson pushrod catch. The sleeved barrels are nitro proofed and fitted with a concave game rib ending in a bead at the muzzles.
Contact us for more information
Details
Maker: Adams & Co
Stock Number: 12156
Gauge: 12
Weight: 6 lb 6oz
Stock
Grip: Staight Hand
Length to centre: 14 1/4"
Forend
Barrels
Type: Steel
Rib: Game
Length: 25"
Chambers: 2 3/4"
Choke: right: Improved left: Improved
Walls: right: 40 left: 36