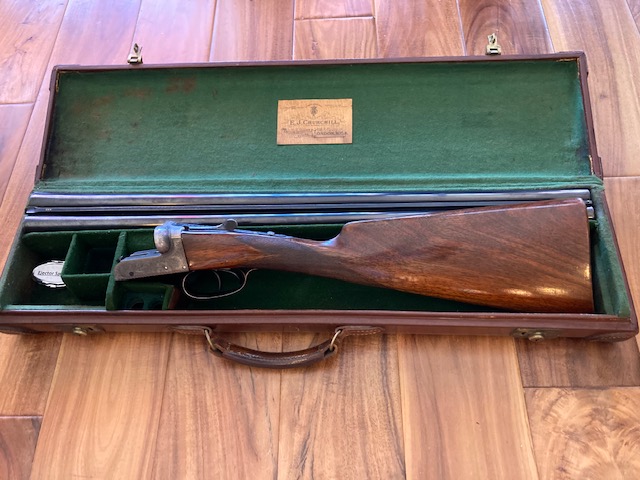 9
E. J. Churchill 3044
A 12-bore 'Utility XXV' model boxlock ejector with 25" nitro reproved barrels with matt Churchill rib, gold inlaid 'XXV' at the breech end, tubes engraved 'E.J. CHURCHILL (GUNMAKERS) LTD. 39 TO 42 LEICESTER SQUARE. LONDON.' Gun has 2 1/2" chambers, bored approximately improved cyl. and 1/4 choke, treble-grip action with hidden third bite, automatic safety with gold-inlaid 'SAFE' detail and bouquet and scroll engraving. Underside has the model designation and retains slight traces of original colour-hardening and a much renewed finish. Gun is in its lightweight case.
Contact us for more information
Details
Maker: E. J.Churchill
Stock Number: 3044
Gauge: 12
Weight: 6 lbs
Stock
Grip: Straight Hand
Length to centre: 15 1/4"
Barrels
Type: Steel
Rib: Churchill
Length: 25"
Chambers: 2 1/2"
Choke: right: Improved left: 1/4
Walls: right: 21 left: 23
Bores: right: 733 left: 734