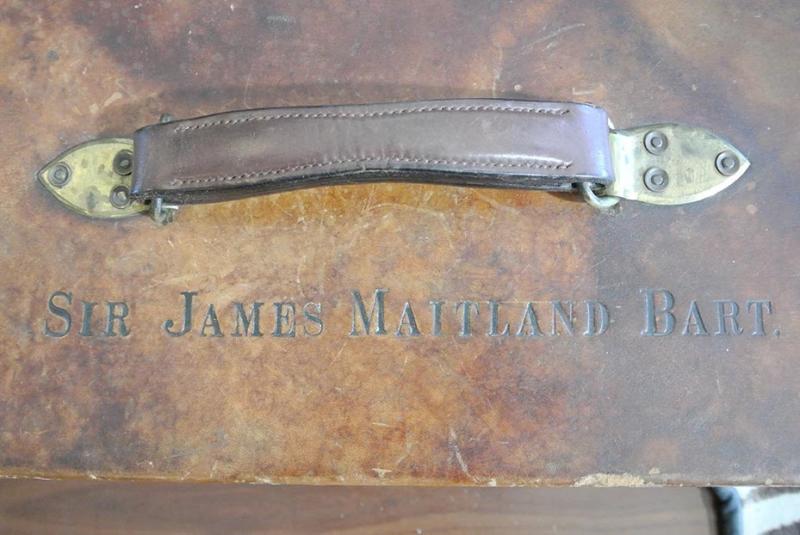 6
J. Harkom & Son 2162 / 2163 / 2164
A trio of fine quality boxlock ejectors, 30" nitro reproved bold damascus barrels, ribs engraved 'JOSEPH HARKOM & SON. 30 GEORGE STREET. EDINBURGH' and '1', '2' and '3'. Treble grip actions with carved serpentine fences, top levers engraved '1,' '2' and '3.' 2 1/2 in. chambers, bored approx. Modified in both ( 1 ) and Modified and Improved choke (2 & 3). Automatic safeties with gold and blue enameled 'SAFE' details, best fine acanthus scroll engraving, the makers name engraved within a banner, retaining much color - hardening and finish. 15 1/4 well-figured stocks including 7/8" leather covered recoil pads. Trio in their fine brass-mounted oak and leather two-tiered triple motor case, the case lid marked 'SIR JAMES MAITLAND BART.'
Provenance: Sir James Ramsay-Gibson-Maitland became the 4th Baronet of Clifton on the death of his father in 1876. The Baronetcy had been created in the country of Midlothian for Gen. The Hon. Alexander maitland in the November of 1818.
Contact us for more information
Details
Maker: J. Harkom & Son
Stock Number: 2162 / 2163 / 2164
Gauge: 12
Weight: 6 lbs. 13 oz. each
Stock
Grip: Straight Hand
Length to heel: 15 1/4"
Forend
Ejectors: Boxlock Ejector
Barrels
Type: Damascus
Length: 30"
Chambers: 2 1/2"
Choke: right: See Description left: See Description
Bores: right: See Description left: See Description