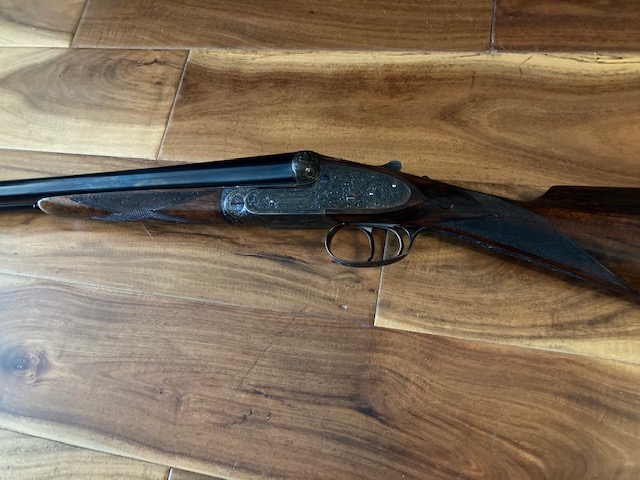 9
James Purdey & Sons 25938
An exceptional 12-bore self-opening sidelock ejector live pigeon gun, with 29" nitro chopperlump barrels with raised, fine matted rib, the tubes engraved 'J. PURDEY & SONS. AUDLEY HOUSE. SOUTH AUDLEY STREET. LONDON. ENGLAND'. The gun has 2 3/4" chambers, bored approximately 1/2 and full choke, treble-grip action with hidden third bite and side-clips, removable striker discs, automatic safety with gold-inlaid 'SAFE' detail. This is a Harry Kell engraved shotgun with cocking-indicators, the action, lockplates and furniture profusely carved with stylised scrolling acanthus designs on a matted background, the fences carved in high relief with oak leaves and acorns on a stippled background. It retains virtually full orginal colour-hardening and finish. It has a 15 1/4" figured stock including a 5/8" leather covered recoil pad, the fore-end finely inset in gold with the monogram 'MG'. It weighs 7lb. 2 oz. and is in its lightweight leather motor case with canvas and leather outer cover.
Contact us for more information
Details
Maker: James Purdey
Stock Number: 25938
Stock
Grip: Straight Hand
Length to centre: 14 5/8"
Forend
Ejectors: Sidelock Ejector
Barrels
Type: Chopperlump Steel
Length: 29"
Chambers: 2 3/4"
Choke: right: Modified left: Full