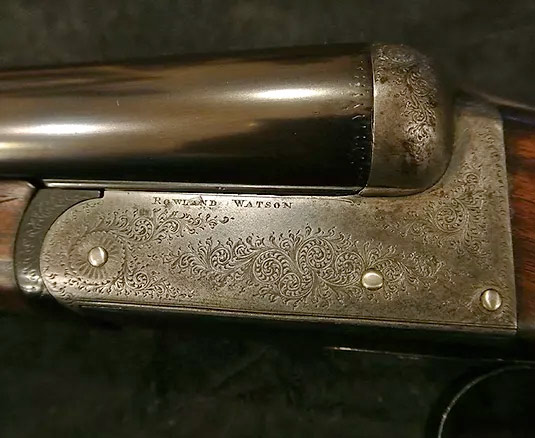 7
Rowland Watson 6177
Nice boxlock non-ejector 12-bore sporting gun. Treble-grip, top-lever action with Greener cross-bolt. Scroll engraved and retaining approximately 50% original hardening color. 27 1/4" nitro proof steel barrels with flat pigeon-type rib and 2 3/4" chambers. 14 1/2" highly figured semi-pistol grip stock with new leather pad and vacant silver oval.
Contact us for more information
Details
Maker: Roland Watson
Stock Number: 6177
Gauge: 12
Weight: 6 lbs. 9 oz.
Stock
Grip: Semi-Pistol
Length to heel: 14 1/2"
Forend
Ejectors: Boxlock Non-Ejector
Barrels
Type: Steel
Rib: Flat Pigeon-Type
Length: 27 1/4"
Chambers: 2 3/4"
Walls: right: 23 left: 24
Bores: right: .739 left: .741