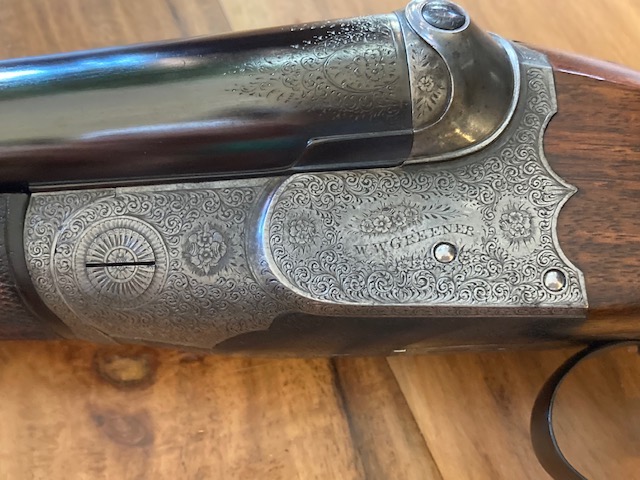 9
W. W. Greener 38523
A 12-bore 'grade G3' 1881 patent self-acting ejector gun with 28" nitro reproved Whitworth steel barrels, the rib engraved 'W. W. Greener. 68 HAYMARKET. LONDON. WINNER AT THE LONDON GUN TRIALS. 1875. 1877. 1878. 1879.' and the tubes engraved 'SIR J. WHITWORTH'S STEEL.' 2 1/2" chambers, bored approximately improved cylinder and 1/4 choke. Scroll-back treble-grip action, incorporating Greener patent 2003 of 1881. Carved serpentine fences, automatic side-safety with gold-inlaid 'SAFE' detail, best fine bouquet and scroll engraving, bright finish, 14 3/8" stock with inlaid horn drop-points. In its makers brass-cornered leather case.
Contact us for more information
Details
Maker: W. W. Greener
Stock Number: 38523
Gauge: 12
Weight: 6 lbs. 9 oz.
Stock
Grip: Straight Hand
Length to centre: 14 3/4"
Barrels
Type: Steel
Length: 28"
Chambers: 2 1/2"
Choke: right: IC left: 1/4
Walls: right: 33 left: 32
Bores: right: 736 left: 731